Alloyed shows how to optimise the production of metal parts through digital manufacturing at Formnext 2021
Alloyed is pleased to announce that it will be exhibiting on booth B98 in Hall 12 at Formnext, which is taking place in Frankfurt, Germany 16-19 November. Following the disruptions and travel restrictions caused by the COVID pandemic, this exhibition represents the first large scale event that Alloyed has attended since its formation from the merger of OxMet Technologies and Betatype.
Alloyed offers a unique and complementary stack of technologies for the manufacture of advanced metal components by additive and traditional means. The company has developed and uses a proprietary computational platform and advanced materials modelling to search for the right alloy composition for any application and process. Alloyed's technologies in additive manufacturing deliver better functioning parts faster and more cost-effectively for a wide range of applications. The company's turnkey solution provides technology at every scale from alloy composition, material engineering and part design through to scale for mass production.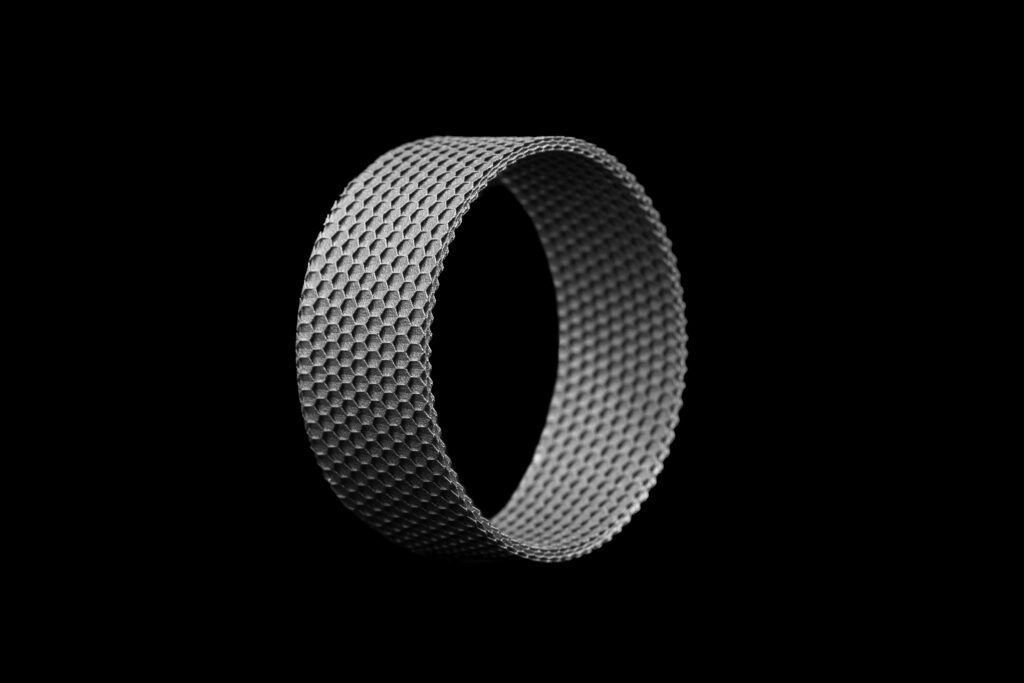 Michael Holmes, MD at Alloyed says, "We are delighted to be exhibiting at Formnext this year. The merger of Betatype with Oxmet technologies to form Alloyed occurred at the end of 2019, soon after the last Formnext event. I look forward to being able to take the Alloyed proposition to a mass audience in Germany. Alloyed provides a compelling offering for optimising advanced digital metal manufacturing applications, and is committed to making its customers high-performance components and processes even better. Joining the Alloys-By-Design (ABD®) brand with Betatype and a facility that makes parts — Alloyed Digital Manufacture (ADM) means we can offer clients the development of superior and customised alloys, unprecedented levels of advanced process control and performance, and expert metal additive manufacturing (AM) production capabilities from application development through to production. In this way, Alloyed provides customers with a palette of complementary expertise and services that optimise the production of metal parts through digital manufacturing."
Alloyed's novel ABD® rapid alloy design and optimisation platform applies data and advanced physical models to simulate the performance of millions of different potential alloys across a large space simultaneously. This allows optimisation across the full range of performance, manufacturing, and economic parameters relevant to any application. It can be used to choose the right alloy for an application, to optimise an existing alloy, or to design new customised alloy solutions. In simple terms it means better alloys, faster.
The Betatype suite of additive technologies includes Engine, a processing platform which uses voxel-by-voxel control of the laser to increase machine productivity and enhance microstructural control, and Architect, an application design platform which takes full advantage of the wealth of data that this level of laser control involves.
Alloyed also applies world-class expertise in multi-scale simulation to model a full range of thermal and mechanical phenomena, including fatigue and other complex phenomena, as well as microstructural evolution during processing and post-processing.  This allows it to optimise both alloy and component design in the light of a manufacturing process and manufacturing process parameters for a given material and performance requirement.
To complete the digital metal manufacturing process, Alloyed can also harness the full potential of AM through the production of physical metal parts. The company has a team with more than 50 years' collective experience of advanced and high-volume manufacturing, design, process development and materials engineering. ADM offers dedicated state-of-the art metal AM facilities that are set up to run an extensive range of metal materials including titanium, aluminium, steel, and nickel alloys. ADM can support application development and deliver production parts at increased scales.
Holmes concludes, "Also exhibiting at Formnext is one of our collaborative partners TANIOBIS (Hall 11 Booth 19). Our two companies complement each other extremely well in terms of mission and capabilities. TANIOBIS, now part of the JX Metals Group, has more than 60 years of experience with high-quality materials, powders, and alloys based on tantalum and niobium, which form the basis for many products encountered in everyday life. Together Alloyed and TANIOBIS are collaborating on the development and analysis of new titanium and refractory alloys that will further open up the material palette for AM. The alliance of the two companies enables a full end-to-end solution for the material development process, including material analysis and qualification, material production, and component design and performance. Alloyed and TANIOBIS are working on a broad spectrum of projects, some with third parties, for a range of applications across the medical, aerospace, and e-mobility industries."
Attendees at Formnext can book a meeting with members of the Alloyed team by clicking HERE.