Developing High Strength Cast ABD®GWA3 Alloy for Automotive Applications
Grainger and Worrall is a UK-based, family owned company that provides a range of complex manufacturing processes, including small series, high integrity structural castings. In operation since 1946, the company has earned a reputation for outstanding quality and as a result works with some of the world's most prestigious companies in the automotive, aerospace, motorsport and defence sectors.
Today, the Grainger and Worrall team remains at the forefront of its discipline through an exceptional combination of knowledge, expertise and experience together with offering unrivalled customer service. One further reason for the company's success is that over the decades, it has strived for continuous growth and innovation in all its manufacturing processes to maintain and improve the high quality of its castings as new technologies emerge.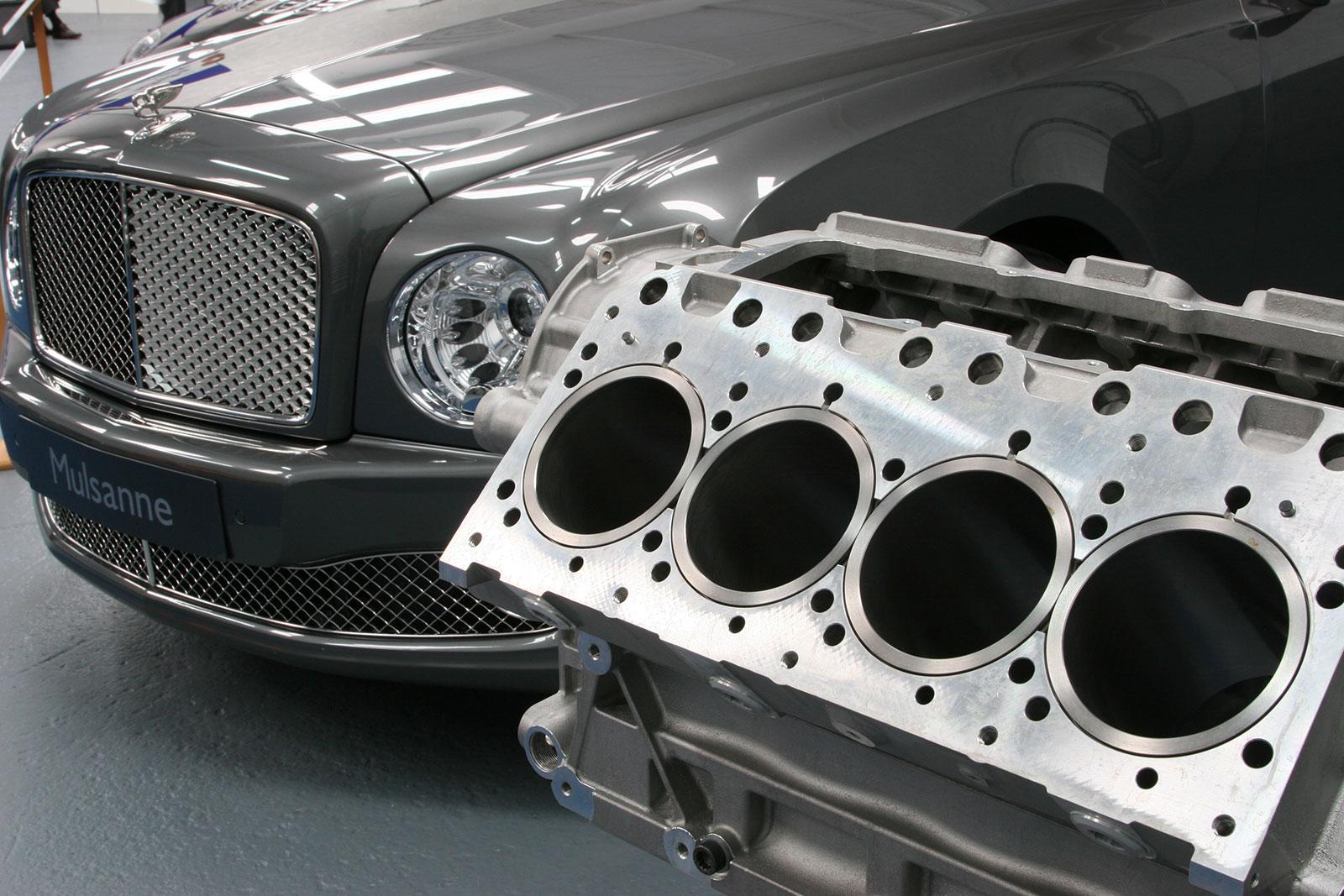 Overview
Grainger and Worrall required an optimal aluminium alloy for the development and production of a large cast engine block with demanding specifications, including improving the strength of the material, while maintaining the ductility (elongation). Identifying and developing new alloy materials is traditionally a time and cost-¬intensive endeavour, even when working within validated constraints.
However, by collaborating with the team from Alloyed and utilizing the Alloys-By-Design (ABD®) optimisation platform, it was possible to meet — and exceed — the project goals in a time and cost-efficient way that has produced some remarkable results for a key automotive application.
"Materials are vital for the integrity of Grainger & Worrall's products, and we are keen to increase our range of offerings in terms of material compositions and new computational technologies such as ABD®. The project results were promising and we are keen to use the computational metallurgy approach in future projects."
Charlie Bamber Executive Manager ­ GWAT ­ Grainger & Worrall
Project Requirements
To improve the performance of a complex cast aluminium engine block for Grainger and Worrall. The specifications for this application also align with a wider, global push for lighter and ever more efficient propulsion systems identified by Grainger and Worrall.
Key specifications:
Improving the strength of the materials
Maintaining the ductility (elongation)
Excellent castability at production scale
The existing aluminium alloys used for this application — designated GW133® and GW116® — have been through extensive approvals and validation of the material. The aim was to improve on the specified properties of these alloys within the existing validation framework.
Table 1. Tensile properties of test bars representative of fast cooled areas in engine block
| Alloys | Yield Strength (MPa) | Ultimate Tensile Strength (MPa) | Elongation (%) |
| --- | --- | --- | --- |
| | | | |
| ZL702A | | | |
| (AlSi8Cu1.6Mg) | 265 | 349 | 5.7 |
| ABD-GWA3.4 | 335 | 398 | 4.9 |
| ABD-GWA3.9 | 325 | 403 | 5.2 |
| ABD-GWA3.11 | 330 | 398 | 6.2 |
Solution
Grainger and Worrall collaborated closely with a team from Alloyed, who developed the ABD® platform based on a decade of research and engineering at Oxford University in the UK. Creating algorithms using the latest science, proprietary software and computing horsepower, the ABD® platform has the capability and the capacity to predict the performance of mil lions of different alloys simultaneously and then to recommend the best optimisation/s and heat treatment/s according to the specifications of any given application. The ABD® platform can greatly reduce the traditional R&D cycle for new alloy compositions, eliminating months or even years of expensive trial and error physical processes.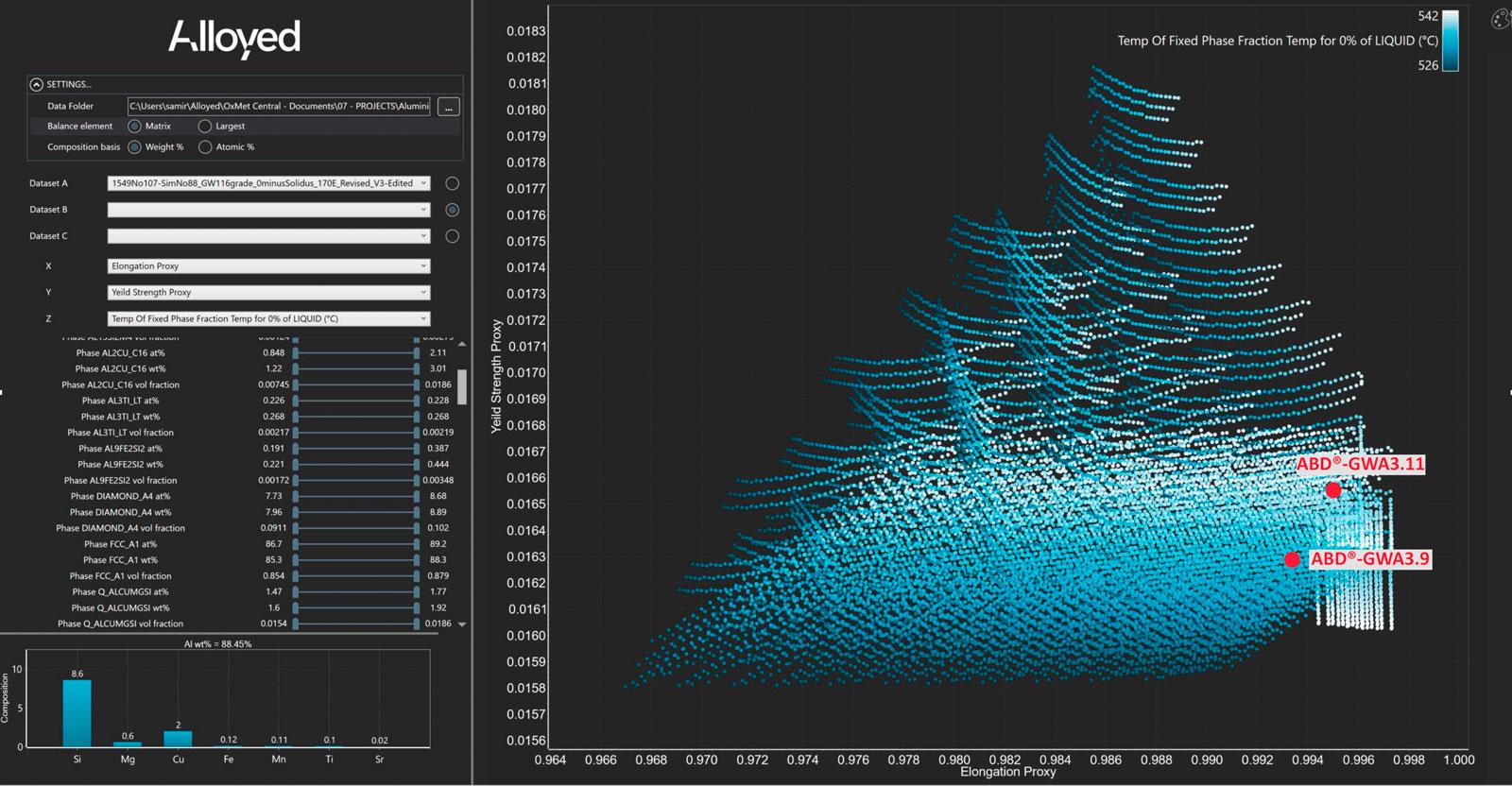 Results
The results from the ABD® multi-objective optimisation were delivered to Grainger and Worrall, and identified three optimal alloy compositions in line with the targets. Designated ABD® GWA3.4, ABD® GWA3.9 and ABD® GWA3.11, the ABD® models for these compositions predicted that the strength and elongation would hit the target requirement for the engine block application.
Grainger and Worrall took these results and tested the new alloy compositions under full casting production conditions. Moreover, Alloyed was able to develop new, optimised heat treatment cycles utilizing ABD's simulation and empirical validation capabilities to further improve strength and elongation in the cur¬rent alloy while balancing additional manufacturing costs.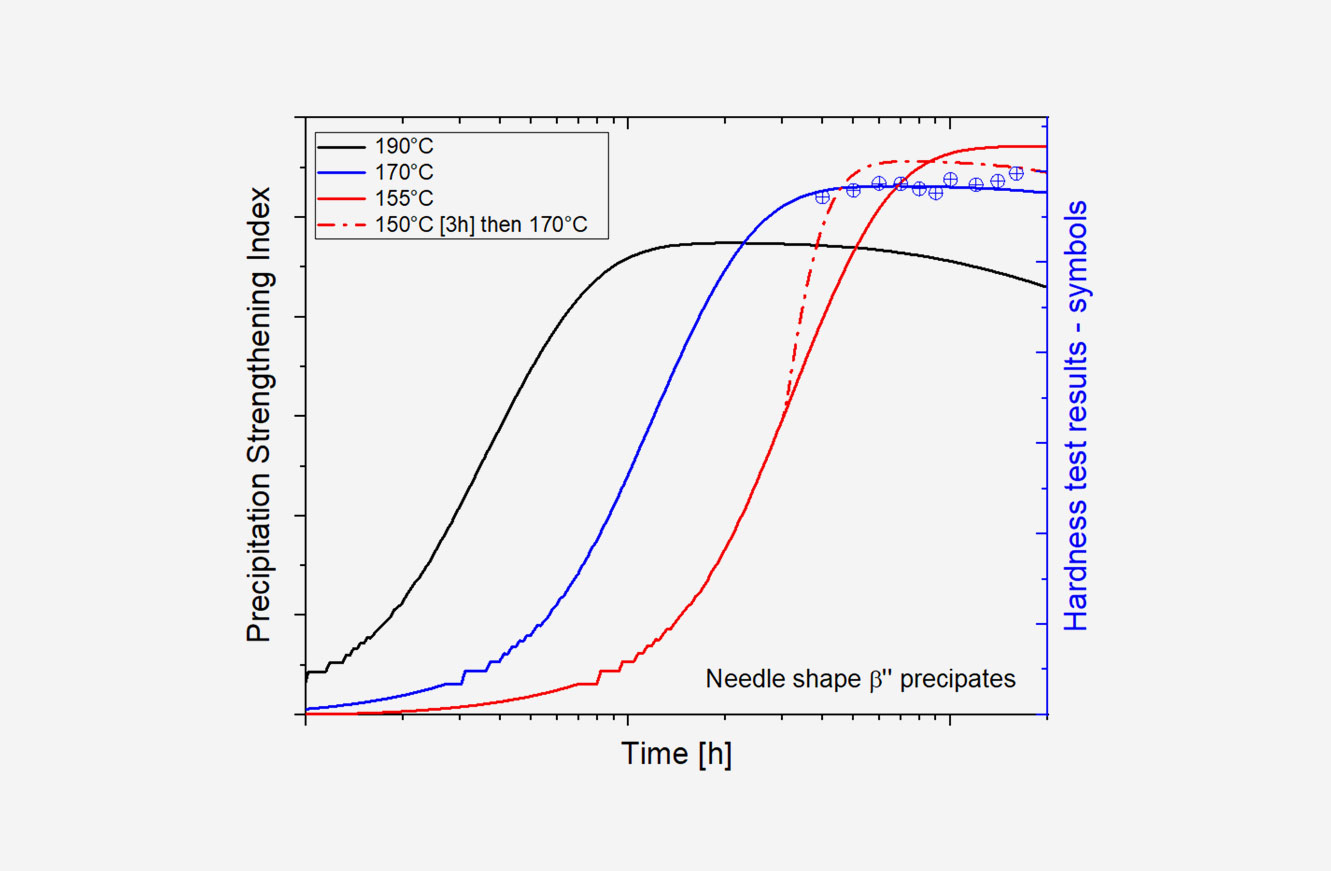 Conclusion
A proprietary alloy, ABD®GWA3 coupled with a unique heat treatment provided a 30% improvement in yield strength without sacrificing elongation.
The ABD® platform successfully modelled the elongation trade-off against the strength improvement tar get outlined by Grainger and Worrall in advance – which is a key advantage of the platform — and provided a very accurate prediction for three new alloy compositions within a very short period of time.
These new compositions have since been validated to operate very successfully within the approved manufacturing tolerances and greatly exceeding the performance of the GW133® and GW116® alloys. With such improved strength properties, this is unprecedented and greatly demonstrates the power and accuracy of the ABD platform.
The results achieved with the ABD®GWA3 alloy were able to instil much greater levels of confidence and provided a cost-effective and time-efficient way of developing new alloy material solutions for a complex casting application without materially adding cost to Grainger and Worrall's existing compositions.
About the Author Paul Rendell is the ABD Platform Director at Alloyed, a company that is uniquely positioned to offer a more comprehensive stack of technologies to its clients to support their metal component production activities, from material identification, through process development, performance optimization and pilot production. These technologies can be applied to client projects individually or in combination to maximize opportunities.