nTopology's partnership with Alloyed yields 28% reduction in build time for rocket nozzle part, proving intelligent design and complex functionality can go hand in hand with increased productivity with Metal AM.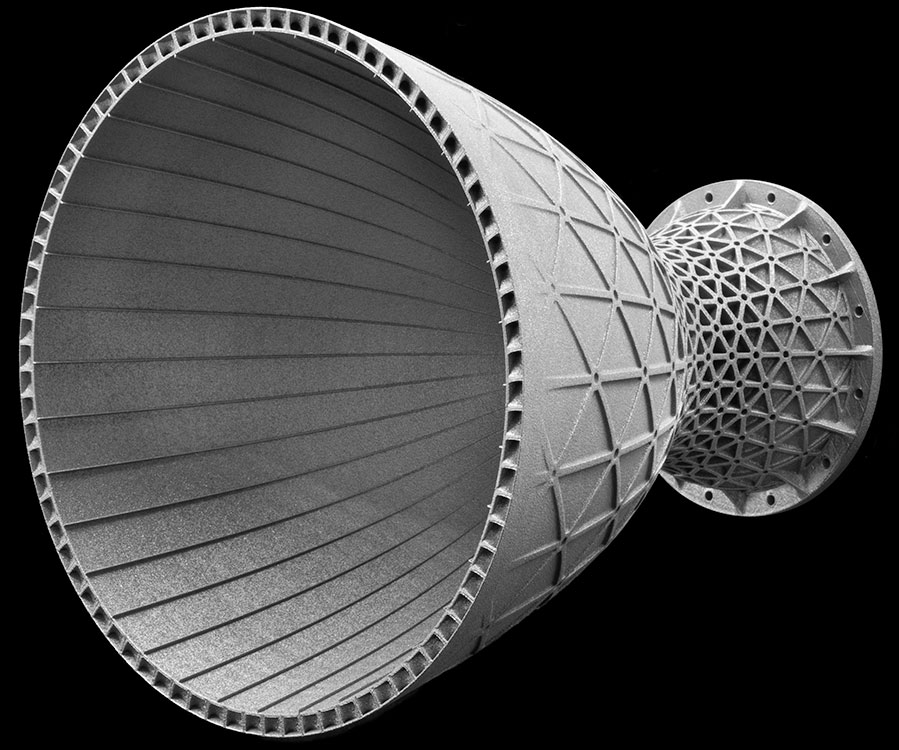 One of Alloyed's greatest strengths is the partnerships that it develops — both within the additive manufacturing (AM) industry and across industrial sectors. Embracing opportunities for collaboration extends projects and produces a higher standard of result in ways that single entities can, and do, struggle to achieve in isolation.
Alloyed's recent partnership with
nTopology
is one such project that epitomises this philosophy. The two companies teamed up to develop and produce a functionally optimised rocket nozzle part.
nTopology
designed the base mechanical structure of the part, using its nTop Platform software to convert the 3D model of the nozzle part into an implicit model. The team then used nTopology's advanced topology optimisation and simulation tools to optimise the design of the part. Working together with Alloyed and applying the capabilities of its unique Engine and Process Control technology, they were able to further optimise the design for metal additive manufacturing; specifically the laser powder bed fusion (PBF) process.
This application of Alloyed's software technology enabled a significant increase in productivity for the complex metal rocket nozzle part. For this specific project, Alloyed achieved a notable reduction in build time on the AM system from 25 hours down to 18 hours, or 28%.
18 Hours
per part on a Renishaw AM250
1.4x faster production
versus standard system scanpath generation
Commenting on the results, Alloyed Founder and CEO, Sarat Babu commented:
"[Alloyed's] partnership with nTopology is an excellent demonstration of how we can work with talented designers to make additive manufacturing perform. The application clearly shows the benefits of combining the functional design and optimization skills of our partner with process optimization through our technology to achieve productivity levels that would not otherwise be possible with a standard metal LPBF platform."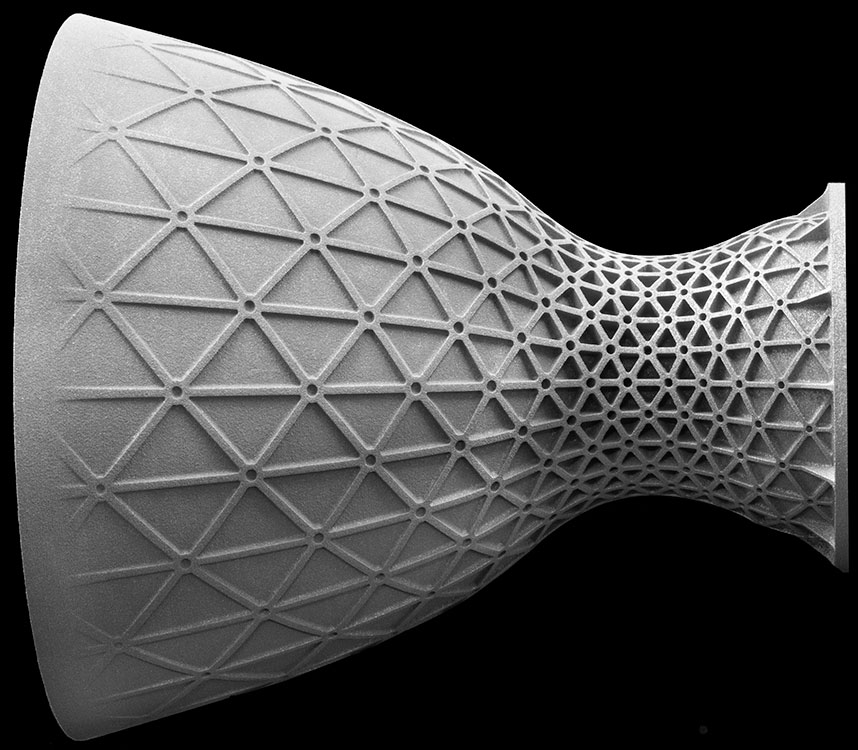 Brad Rothenberg, Founder and CEO nTopology further stated:
"For serial production in additive manufacturing to work, it must make business sense. Through the partnership between nTopology and [Alloyed], and our shared belief in solving engineering problems by linking design, simulation, and manufacturing processes directly, we are able to present a strong business case for additive manufacturing. We enable our customers to design and manufacture complex parts with speed, efficiency and reliability. We could not be happier with the results of this rocket nozzle case study and are looking forward to working on more joint projects."
The rocket nozzle part was built in titanium on a Renishaw AM250 system by Alloyed. It was a test part created to highlight how different solutions can be integrated through partnerships. The capabilities of nTop Platform demonstrated how functionality can be improved through the application of intelligent design, while ensuring the part is fit for purpose. However, the input from the partnership with Alloyed illustrates how the design can only take you so far, and complexity and functionality does not have to come at the expense of productivity.
Productivity is a key driver for the uptake of AM, and it is here that partnering with Alloyed can bring significant returns through the application of its unique technology portfolio for metal AM.